Dona Hay – Coffee and Almond Overnight Oats
INGREDIENTS
⅓ CUP (35G) LSA
1 CUP (120G) ROLLED OATS
2 CUPS (500ML) ALMOND MILK, PLUS EXTRA TO SERVE
1 CUP (160G) ALMONDS, ROUGHLY CHOPPED, PLUS EXTRA TO SERVE
¼ CUP (60ML) MAPLE SYRUP, PLUS EXTRA TO SERVE
⅓ CUP (80ML) ESPRESSO COFFEE
SLICED BANANA AND WHITE CHIA SEEDS, TO SERVE
METHOD
1. Place the LSA, oats, almond milk, almond and maple syrup in a large bowl and stir well to combine. Cover with plastic wrap and refrigerate for 6 hours or overnight.
2. Add extra almond milk to loosen the mixture. Divide between bowls. Top with the extra almond, extra maple syrup, coffee, banana and chia seeds to serve.
Serves 4
Minimalist Baker – 5 ingredient granola bar
Ingredients
1 heaping cup packed dates (pitted // deglet noor or medjool)*
1/4 cup maple syrup or agave nectar (or honey if not vegan)
1/4 cup creamy salted natural peanut butter or almond butter
1 cup roasted unsalted almonds (loosely chopped // see instructions for roasting nuts)
1 1/2 cups rolled oats (gluten-free for GF eaters)
Chocolate chips, dried fruit, nuts, banana chips, vanilla, etc. Add ons
Instructions
1. Process dates in a food processor until small bits remain (about 1 minute). It should form a "dough" like consistency. (Mine rolled into a ball.)
2. Optional step: Toast your oats (and almonds if raw) in a 350-degree F (176 C) oven for 10-15 minutes or until slightly golden brown. Otherwise, leave them raw – I prefer the toasted flavor.
3. Place oats, almonds and dates in a large mixing bowl – set aside.
4. Warm maple syrup (or agave or honey) and peanut butter in a small saucepan over low heat. Stir and pour over oat mixture and then mix, breaking up the dates to disperse throughout.
5. Once thoroughly mixed, transfer to an 8×8-inch baking dish or other small pan lined with plastic wrap or parchment paper so they lift out easily. (A loaf pan might work, but will yield thicker bars // adjust size of pan if altering batch size).
6. Press down firmly until uniformly flattened – I use something flat, like a drinking glass, to press down and really pack the bars, which helps them hold together better.
7. Cover with parchment or plastic wrap, and let firm up in fridge or freezer for 15-20 minutes.
8. Remove bars from pan and chop into 10 even bars (or 9 squares // as original recipe is written). Store in an airtight container for up to a few days. I kept mine in the freezer to keep them extra fresh, but it isn't necessary.
Turmeric and Coconut Fish Curry
INGREDIENTS
4 garlic cloves, chopped
4 small green chillies, chopped
1 tbs finely chopped ginger
2 tsp finely chopped fresh turmeric
2 tbs sunfower oil
1 onion, finely chopped
2 tsp ground coriander
2 tsp ground turmeric
1 tsp ground cumin
1/4 tsp ground cloves
6 green cardamom pods, cracked
12 curry leaves, plus extra deep-fried leaves to serve
400ml can coconut milk
1 cup (250ml) fish stock
600g sand whiting fillets or whiting fillets (skin on), cut into 4cm pieces
Juice of 1 lime
Steamed basmati rice, to serve
Coriander leaves, to serve
METHOD
Using a mortar and pestle, pound the garlic, chilli, ginger and turmeric to a paste.
Heat oil in a deep frypan over medium heat. Cook onion, stirring, for 3-4 minutes until softened. Add chilli paste and cook, stirring, for 3-4 minutes until fragrant. Add spices and curry leaves, and cook, stirring, for a further 2 minutes. Add coconut milk and stock, then bring to a simmer.
Cook, stirring occasionally, for 10 minutes or until slightly reduced. Add fish and cook for 4 minutes or until just cooked. Remove from heat. Season with lime juice and salt.
Serve curry with rice, topped with coriander and deep-fried curry leaves.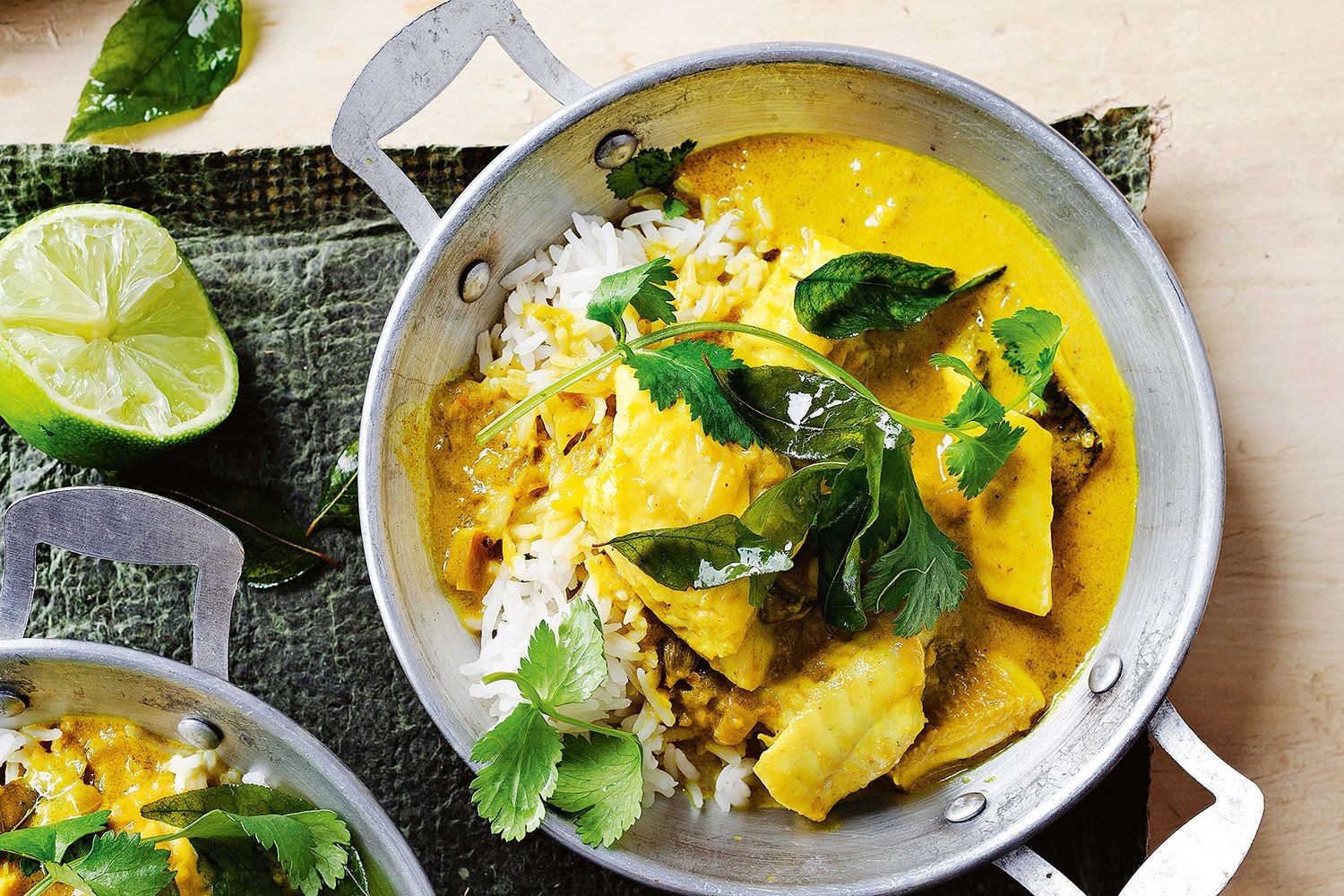 Laksa with hokkien noodles
Ingredients (serves 4):
1 Tablespoon olive oil
1 Brown onion, finely chopped
8 Garlic cloves, finely grated or chopped
Thumb-sized piece ginger, finely grated or chopped
1 Bunch of coriander, stems finely chopped and leaves picked
2 Tablespoon chilli paste (eg. sambal olek)
1 Stick lemongrass, bruised
400mL Tin coconut milk
1L Reduced-salt chicken stock
2 Tablespoons fish sauce
1 Tablespoon brown sugar
400g Quick-cooking protein of your choice (eg. prawns, salmon, chicken thigh, tofu, dumplings)
2 Cups snow peas
500g Hokkien noodles
2 Cups beans sprouts
1 Long red chilli, thinly sliced
1 Lime, cut into wedges
Method:
1. Heat oil in a wok or large frying pan over medium-high heat. Add onion, garlic, ginger, coriander stems, chilli paste and lemongrass. Cook, stirring, for 2-3 minutes or until fragrant. Add the coconut milk and chicken stock and stir to combine. Season with fish sauce and brown sugar.
2. Bring broth to the boil then reduce to a simmer over medium-low heat. Add protein of your choice and simmer for 3-4 minutes or until just cooked. Add snow peas for the last minute of cooking.
3. Meanwhile, place noodles in a large bowl. Cover with boiling water for 2-3 minutes or until warm and easily separated.
4. Divide noodles between serving bowls. Top with protein of your choice and snow peas. Pour over broth. Finish with bean sprouts, chilli and coriander leaves.
Serve with lime wedges