CAULIFLOWER & LENTIL DHAL
I love Dhal but find that it can sometimes be a bit gluggy and bland, however this untraditional version here with the addition of cauliflower and spinach adds some much needed texture and flavour, while the lentils and chick peas add lots of fabulous fibre.
Olivia Brown, Brown & Co Catering
(Serves 4-6)
INGREDIENTS
3 shallots, finely diced
2 cloves garlic, minced
2 cm knob of ginger, grated
2 dessert spoons Tika Masala curry paste
1 large head cauliflower, chopped
1 x 400ml can of coconut cream
1 stock cube, chicken or veg 1 x 400 ml can chickpeas, drained & rinsed
1 x 400 gm can lentils, drained and rinsed
1/2 bunch silverbeet, finely chopped
Natural yoghurt
Fresh coriander leaves
Lime wedges
Snow pea sprouts
METHOD In a deep pan, heat some olive oil on med heat, sauté off shallots, ginger and garlic. Add curry paste and sauté for a few more minutes till fragrant Add cauliflower and stir to cover in curry paste. Add coconut cream then fill the empty can with water and add to the curry with a stock cube. Add chickpeas and lentils. Increase heat and bring curry to the boil, reduce heat and simmer for 15 mins. The sauce will reduce and thicken. Just prior to serving add the silverbeet and mix to combine and wilt. This is best served with a nice dollop of natural yoghurt (sprinkled with a bit of turmeric for colour) a few good handfuls of coriander and snow pea tendrils on the side plus some lime wedges and some steamed rice.
Enjoy.
MEDITERRANEAN QUINOA SALAD
This delicious and healthy salad is filled with fibre and goodness and is incredibly simple to make
(Serves 6 as a side)
INGREDIENTS
250gm cooked quinoa
Handful of rocket and basil, chopped
100gm marinated artichoke, chopped
100 gm kalamata olives
100 gm roasted capsicum, chopped
100 gm chargrilled capsicum, chopped
100 gm chargrilled eggplant, chopped
185gm can tuna 100 gm Greek feta, diced
2 tbs Olive oil
Juice of 1 lemon
1 tbs Red wine vinegar
METHOD This is super simple. Cook quinoa as per packet directions, empty warm quinoa into a large bowl, add olive oil, red wine vinegar and lemon juice from. Toss to combine and allow the warm quinoa to soak up the dressing and flavours. Roughly chop all other salad ingredients and add to the quinoa. Toss well to combine and season with a little salt and pepper.
NOTES You can substitute any chargrilled or marinated veggies you might have on hand. You can omit the tuna if you like, and omit the feta if you want to make this vegan or dairy free. This salad is also gluten free so perfect if you need to cater for any dietary requirements. Enjoy.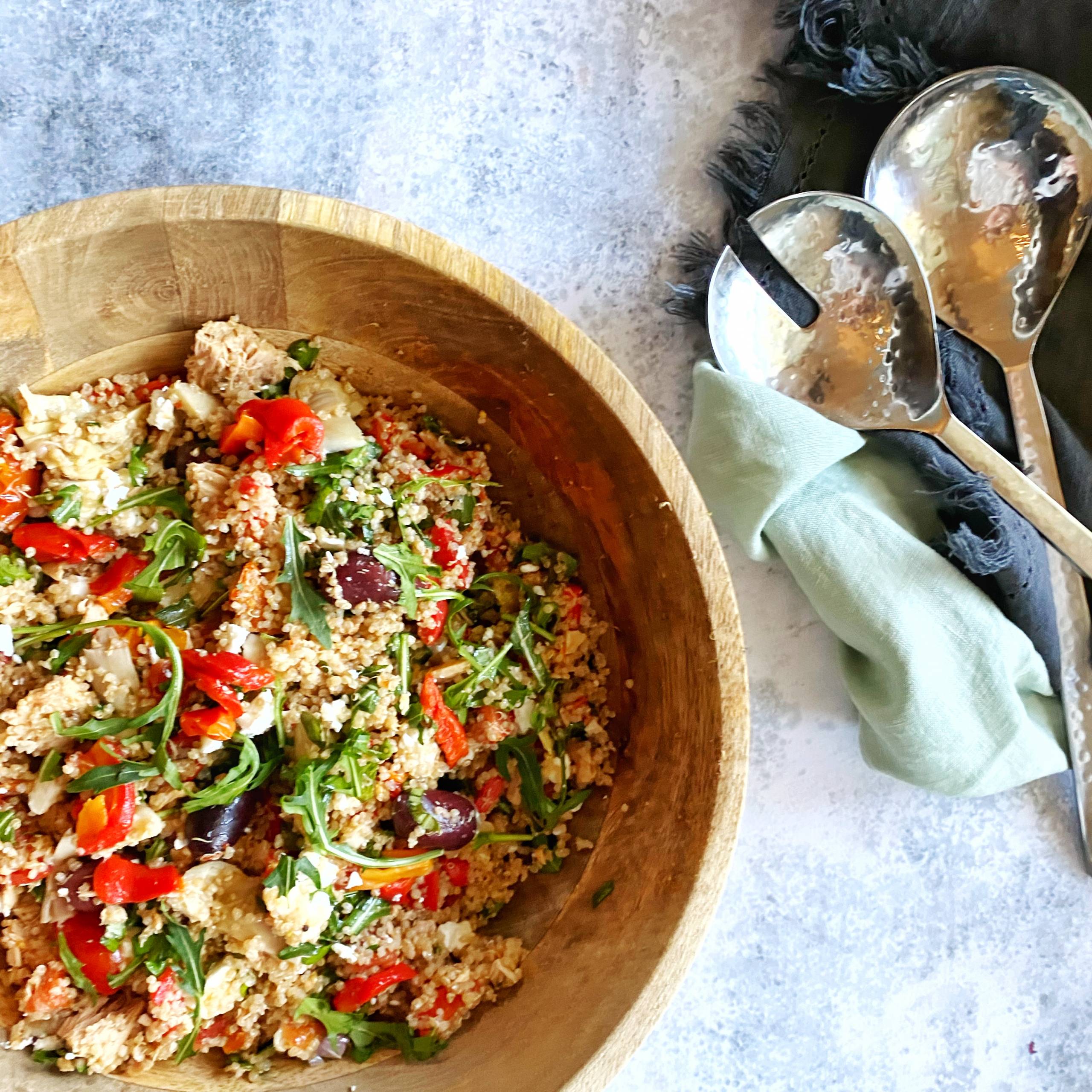 WALDORF SALAD
This is such a simple classic salad and if you haven't made one for a while (or have never made one) do yourself a favour and throw it all together very soon. It's simple and delicious but also jam packed with fibre and goodness from the nuts, grapes, celery and apple! (Serves 6 as a side dish)
INGREDIENTS
300gms mixed lettuce leaves
2 green apples, thinly sliced
2 sticks of celery, thinly sliced
2 large handfuls walnuts, toasted
2 large handfuls of seedless red grapes, halved
2 heaped tbsp whole egg mayo
Juice of 1 lime 1 tsp
Dijon mustard METHOD
To make dressing simply mix mayo, juice and mustard in a bowl and season with a little salt and pepper. Place all salad ingredients in a bowl, just prior to serving add dressing and toss to combine. Serve on a nice platter or bowl.
NOTES
This salad is perfect to take to a BBQ, in fact I would prepare the dressing at home earlier and pack it in a small container or jar and simply give it a good shake and dress the salad just prior to serving rather than dress it at home.
This is also easy enough for a quick weeknight meal with some chicken or even salmon. Enjoy.
VEGGIE & BEAN LOADED NACHOS
These super easy and super delicious Nachos are loaded with black beans, avocado, corn, tomato and cucumber making them a great way to easily add more fibre to your diet. (Serves a crowd)
INGREDIENTS
Corn chips Shredded cheese
Chunky Mexican Salsa
400gm of black beans
Cherry tomatoes
Diced Cucumber
Diced Avocado
Diced Pickled Jalapeño chillies
Coriander, leaves roughly chopped
Sour cream
METHOD Pre heat oven to 170 On a tray (or 2 depending on how many you are catering for) spread a layer of corn chips, sprinkle over some cheese, drizzle on some salsa, scatter on the drained beans, layer with more chips, cheese, salsa and beans. Pop the tray in the oven and allow to cook for 7 mins or so till cheese has melted. Remove from oven, scatter over the diced cherry tomatoes, cucumber, avocado, jalapeños and coriander. Dollop on sour cream and serve. Serve with some extra sour cream and extra avocado or guacamole.
NOTES The great thing about nachos is that you can customise them to what everyone in your family likes. Sometimes I do a tray for adults and a tray for kids or one half more child friendly. Make sure you drain your beans well and go easy on the salsa as you don't want your chips to go soggy. This is a great casual family meal as it's one of those pop in the middle and dig in dishes with few dishes!
Winner! Enjoy.